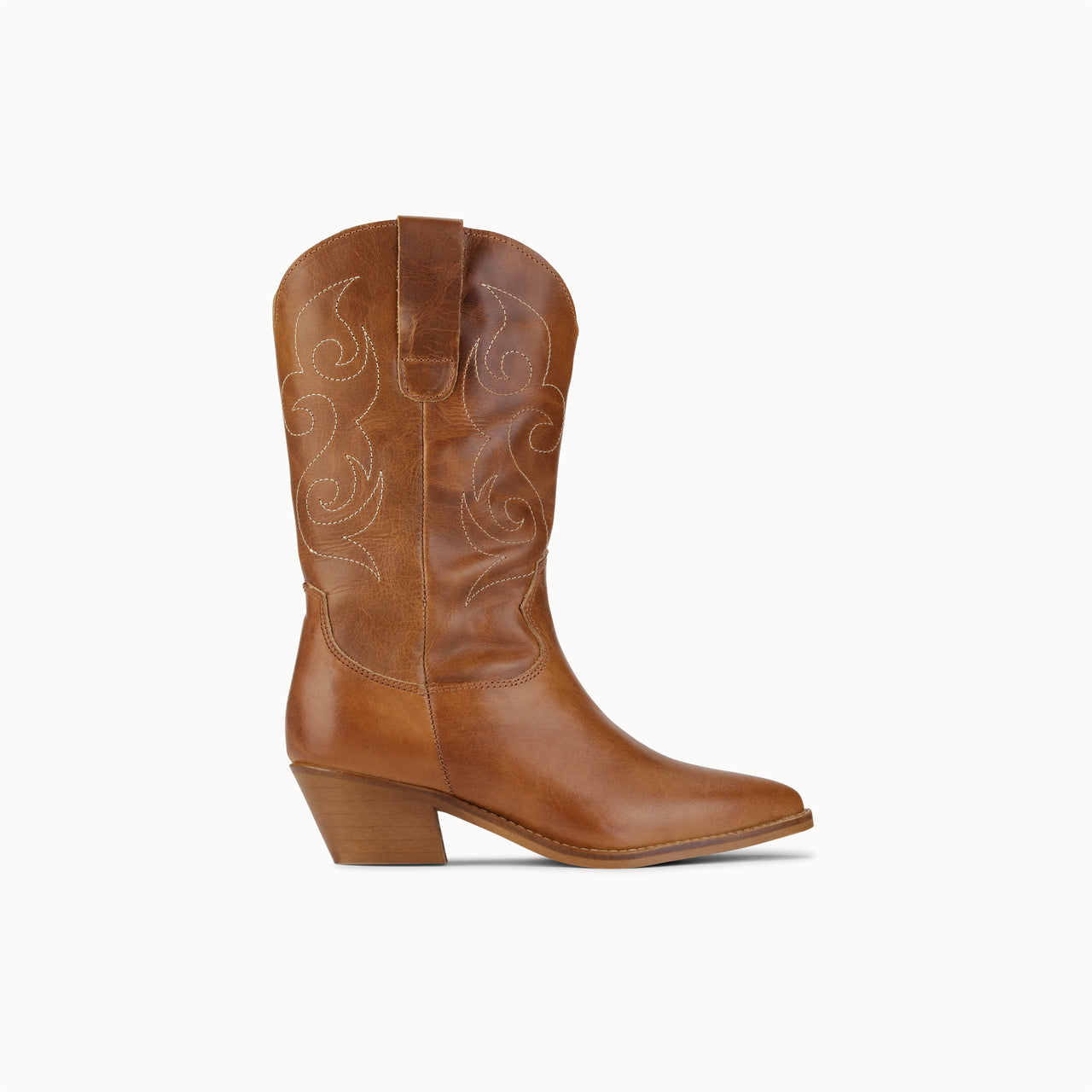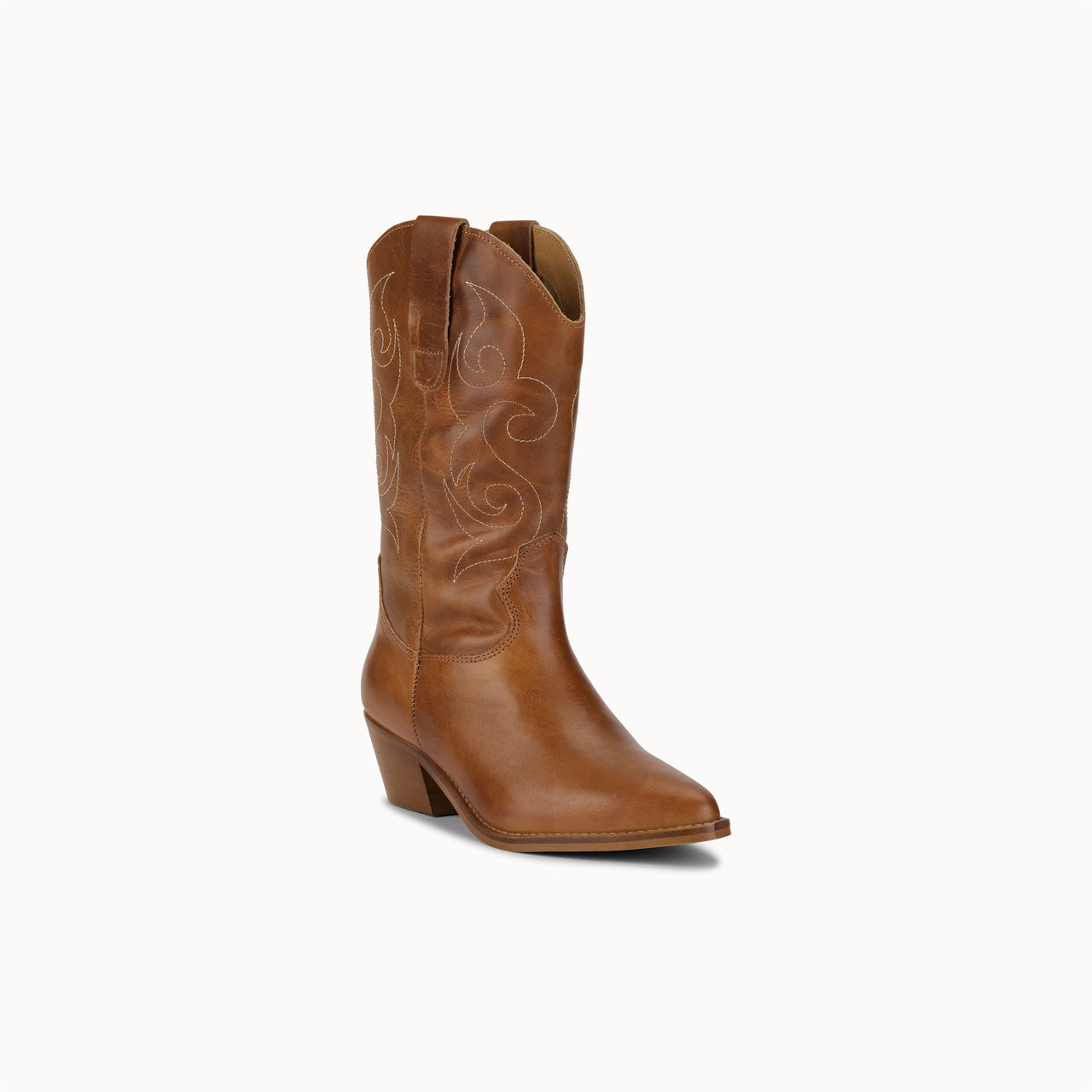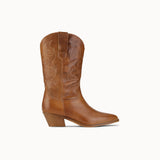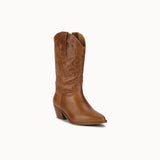 Item is in stock
Hurry, Only

0

Left!
Item is out of stock
Item is unavailable
Description

Freight

Customer service

Free gift
Presentation of our Emina Brown Cowboy Boot – a unique collaboration between the influencer Arlinda Nyward and our brand . These cowboy boots are made to combine timeless style and modern design .

Our Emina Brown Cowboy Boot is created from premium leather from LWG (Leather Working Group) certified tanneries . These boots are handcrafted in Portugal with a focus on sustainability and the use of Italian details that add an elegant touch.
These unique boots are only produced in limited numbers , making them an exclusive addition to your wardrobe.
Product specifications:
Made from 100% leather of the highest quality.
Heel height of 4.5 cm for extra comfort and style.
Shaft height of 27 cm, which gives a sophisticated look.
To complete your look, we recommend pairing Emina Brown with our amazing Diora Brown Mule shoes. These mules are perfect for adding an elegant and relaxed touch to your style. You can find the Diora Brown Mule shoes here: Diora Brown .
The item can either be delivered to the address or to the nearest parcel shop with GLS.
Delivery time :
Denmark: 1-2 days
Europe: 3-5 working days
Rest of the world: 3-5 business days
Need help?
We are available by email and phone every weekday.
Email: jodis@jodis.dk - Answer within 24 hours.
Tel: +45 71 99 98 42 - All weekdays 9am-4pm.
We give a secret gift with all orders until 31 September.
Hint: You can use it everyday.
Free shipping over DKK 999.
The product
Where are the shoes produced?

Our shoes are produced and sold exclusively in Europe to reduce carbon emissions and keep production close to the customer's final location. This approach also helps build stronger relationships with our suppliers and enables us to be more open about our working methods.
What is the philosophy behind our production?

We manufacture our shoes in limited quantities and prioritize quality to ensure long-lasting items. Our philosophy is to buy fewer but better products, so you only have to do it well once. To achieve this, we collaborate with extraordinary craftsmen who handcraft our products with great attention to detail.
How do we select our materials?

We are proud to use leather that comes exclusively from LWG certified tanneries in all our shoes. LWG is a reputable, non-profit organization and global leader in environmental certification of leather production. If you want to know more, you can read on.

To make it even better, we have integrated vegan materials into our products. We currently use recycled plastic from bottles and vegan pineapple "leather" as our materials of choice.
Delivery
Which shipping company do we ship with?

We send with Postnord and GLS. You can freely choose between parcel shop, home delivery and business delivery.
How long does delivery take?

DK: 1-2 working days

EU: 2-4 working days

Worldwide: 3-5 business days

If you order before 13, we send the package the same day.
Insurance of the package

We are of course responsible for the package until it reaches you, which also means that we have insured the package for you.
Customer service
Do you need help?

We are always available to help you. If you have any questions regarding our items, return policy or need help finding the right size, color or fit, please feel free to contact us.

We prioritize answering inquiries as quickly as possible.

We are available on all weekdays from 8-16 and we will be happy to help you in any way imaginable.

Email: customerservice@jodisshoes.com
Tel: +45 71 99 98 42

Go to customer service
Virkelig en lækker støvle
Let bestilling og hurtig levering. Bedste anbefaling.
Super behagelige!
Selve støvlen er super flot designet, og endnu bedre i virkeligheden! Jeg havde ikke regnet med at den ville være specielt behagelig at have på (erfaring fra andre støvler) men jeg er simpelthen så positivt overrasket! Havde dem på til en fødselsdag i over 9 timer, og havde ingen smerter! Super god kvalitet:)